Hi ,
Its been a long time I didn't receive refund of the song i paid for.
EAN 4066218753691
Hi @zaxta09
Thank you for your message. Someone from the iMusician Team will get back to you shortly, and take care of your request. Please be patient.
There is no work on weekends and tomorrow is a public holiday in Germany. That's why you can't expect a response until Tuesday.
@Carlos can you help here? Thanks!
We haven't received any refund request from you regarding this release. What is the reason of this claim ?
Hi sir,
As i see that you didn't check the request properly.
I made a release named as "Peace in my head" later i cancelled the release but the amount is mot refunded yet.
EAN 4066218753691
Registered email account:
(DELETED BY MODERATOR)
Please pay attention to it as i raised a request of cancellation. But not received refund yet.
Thanks.
Your release was delivered to the platforms on 09.05.2023 and then taken down on 12.05.2023. Therefore it wasn't cancelled but taken down. A cancellation is done before delivery to the platforms and is eligible for refund, a takedown is done after delivery to the platforms and is not eligible for refund.
Best,
EAN 4066218753691
As it written on your website that if we cancel the release between 14 days it will be refundable. Why are you saying that its not eligible for refund?
It is being cancelled under 14 days so i want my refund asap.
Thank you !!
Hello @zaxta09, I have contacted you in DM
Sir tell me what's my fault?
I made release and paid for YouTube content id also. But your team doesn't send it to the youtube content id that's why i had to takedown the song. You should tell the customer wether it is applicable for YouTube content id or not before sending to the store this is not acceptable at all.
Make it live again with the activation of content id or refund the amount asap. It is not mentioned on anywhere in your article what you said. It is wrote only that cancellation under 14 days will be refundable. That's it.
When ordering the CID for your tracks, you are required to confirm the YouTube eligibity criterias and therefore acknowledge checking that your content is eligible.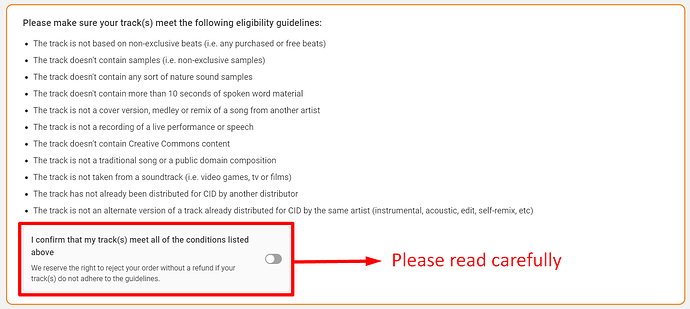 Again, a takedown is not eligible for a refund as it is not the same as a cancellation.
Also, please refer me to where this is indicated : "It is wrote only that cancellation under 14 days will be refundable"
Best,
So what's the issue ? Why don't you send it to the platform of youtube content id? Every customer have rights to ask it why the content disapproved for CID. And also i would like to request you to please inform every customer if their song doesn't eligible for YouTube content id and why. Later if the want to distribute you can do it otherwise simply refund the amount.
I think there is a misunderstanding here.
The distribution of your release on the streaming platforms (Spotify, Deezer, Apple Music, etc.) and the monetization of your tracks with YouTube Content ID are two different things. We don't "send it to the platform of youtube content id". Ineligibilty for the Content ID monetization doesn't mean that the tracks cannot be distributed on streaming platforms. I highly suggest you take the time to carefully read these articles that explain everything regarding CID monetization :
Have a nice day