Thank you very much for explaining.
In fact you don't have to pay every month or every year subscription.
But all releases have the same cost, even in "free" mode.
Thanks, minizool, I see. The name of the plan seems quite misleading and even malicious and the quotation marks in your response reveal that you realize that "free" means no free. Perhaps they should make their fine print a little clearer: I realized there was something charged at the very end of the uploading process, was not informed in advance.
As suggested in another thread, "basic plan" would be a less dishonest naming and would avoid creating a feeling of distrust towards the company practices. What else should I be prepared to read with quotation marks in interacting with iMusician?
Thanks again and best regards,
Hi there @pferra !
Just wanted to react to what you were saying based on my knowledge and experience.
In my opinion, the name isn't misleading since we're talking the subscription plans: so yeah, you've got two paid ones and one where you don't pay. That's clear and very common amongst many platforms (not only in the music industry).
The free subscription plan (that's how everyone should talk about it, not just saying "free plan") has nothing to do with the release costs. These are two different things.
Plus, when you say
realized there was something charged at the very end of the uploading process, was not informed in advance.
Are you talking about what your bank charged you after the payment to iMusician? If the answer is yes, that's in fact totally normal and has nothing to with iMusician. As stated in their policies, they can sometimes have adding costs when paying, but it will always be displayed before checkout (and based on my memories, it was usually linked to PayPal). However, bank fees have nothing to do with them and everything to do with your bank. iMusician has a Swiss bank (since that's where they're based) and not all banks have partnerships with Swiss banks. For example, my French bank doesn't, and so I have to pay bank fees every time I pay something to iMusician. This information was confirmed both by iMusician staff and by my bank counsellor.
Hope this helps you better understand what's going on.
Have a nice day!
Thanks Eria!
I see, but I will not get into debate about what's common among platforms or other industries, I just want to offer a use case. The use case I offer is that of a user who is doing many things, browsing many sites, trying to attempt something simple in the cheapest way, comparing many platforms (including some that don't charge by release), in the middle of all of this stumbles upon iMusician, sees the claim "start your project with us for free" (they is an independent artist, without any expectation about having any actual revenue from distributing their music on Spotify, but is fed up by members of their tiny fanbase asking for Spotify links), creates an account, upload their music and art, then submits the request, and is faced with a 20 bucks bill. As we users normally are, this user is stupid and realizes just then that there was fine prints in the contract telling the difference between "subscription" and "release". Face clap, suspicion, and the question "what other fine prints can I expect in dealing with these guys?". Finally, reluctance.
We can attempt all the semantic clarifications we want, but that's basically the case I present, and as I found other posts in the forums, seems not to be a rare case. Naming the plan "free" IS malicious.
Fair to say is that I also saw iMusician marketing people answering and taking note.
That's it, and enough for me!
Thank you all!
Pablo
Hey @pferra
I just wanted to understand what you were charged for? Our free account gives you access to certain tools (e.g. Artist Hub) where you can create a "release page smartlink" for 0 money. We're not just competing with other distributors but also the likes of LinkFire etc which is why we advertise it as a "free" account.
We realise that we don't get the messaging right 100% of the time and we are working on a series of changes to make it more easily understood.
I understand that, in your point of view, you will think that this is "semantics", and we do take on the feedback here, my question would be - what would you call it? (honestly we weren't trying to be malicious even if it has ended up that way in your view).
@eriahummingbird - can you also let me know what your bank charged you for?
As far as I am aware, there shouldn't be additional charges to pay us. We worked with our payment provider (and continuously do so) to ensure that there aren't extra hidden charges, even from your banks. As long as the currency is correctly set in your account (e.g. euros) then I don't understand this (but I am not fully aware of all the banking policies in all countries… yet!)
As for receiving payments, there are charges from our provider, but again there shouldn't be charges from your bank as we pay out in the local currency whenever available. (e.g. CHF / EUR etc) and we hold currencies in multiple countries

Hello Simon, well the answer from my bank was (in French, don't know how to say it in English and too lazy to look right now, sorry):
La transaction est bien en euros mais si la banque de iMusician est en Suisse il s'agit alors d'une transaction hors Espace Economique Européen pour lequel il y a des commissions proportionnelles au montant du paiement de 2.90% ainsi qu'une commission fixe de 0.30€.
Thanks - genuinely didn't realise this was a thing - thanks for letting me know.
It's for paying you. I was charged for the 2 releases I bought + for the subscription plan Amplify+.
Until now I never asked for a payout so I don't know what happens then.
This is bizarre!
I could understand if it was a "foreign currency transaction fee" but it really shouldn't matter where our account is based, the fee should be managed by your card provider.
Can you let me know which bank you're using / card provider. (in private if you wish).
Hi SimonG,
Thanks for jumping in.
As I said in my previous message, I was presented by a bill of 20uSd after I finished uploading my stuff and submitting it to distribution.
Let me try again and take some screenshots.
As suggested in other threads, "basic plan", with a clearer explanation of actual charges, would do fine. "Starter plan" comes to my mind, also, but I think is key you explain better what charges are going to be expected.
Thanks again.
Pablo
Sorry, Simon. It seems I cannot try again, I get this message: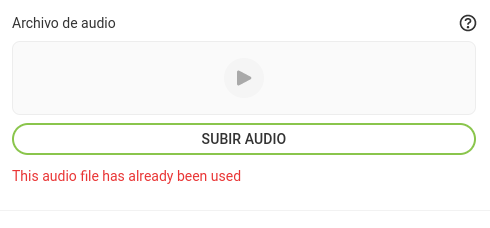 I tried in first place and then deleted the files and the album, but it seems the system keeps track of that and prevents uploading again, even though nothing was done with the files.
Is getting more and more complicated!!!

Cheers.
Pablo
@pferra, for distribution - there is a charge, we had hoped that this was clear on the pricing page, but maybe it is not as clear as we thought.
With regards to your error message. If the track is already uploaded it should be in your library? You don't have to upload multiple times. Lemme know if this is the case?
Ah I see you already uploaded and deleted, ok - that's caused an issue @Juan or @Carlos what can be done here?
Yep, that's what I mean. Was not clear and really surprised me. I wish my tracks could be actually deleted and no record of them are kept by iMusician.
Will wait for your feedback before I attempt to delete them again.
Thanks.
Pablo
@SimonG, @pferra - this message is displayed when you're trying to upload an audio file that's already present in your library/assigned to another track in your library. Make sure to delete all duplicates of the same track and to assign the audio file to only one track in your library.
Thanks @Carlos
I can see the tracks themselves were still uploaded (on May 21st) The tracks in "green" (titles removed for privacy) Can be added to any release. The tracks in orange are "duplicates"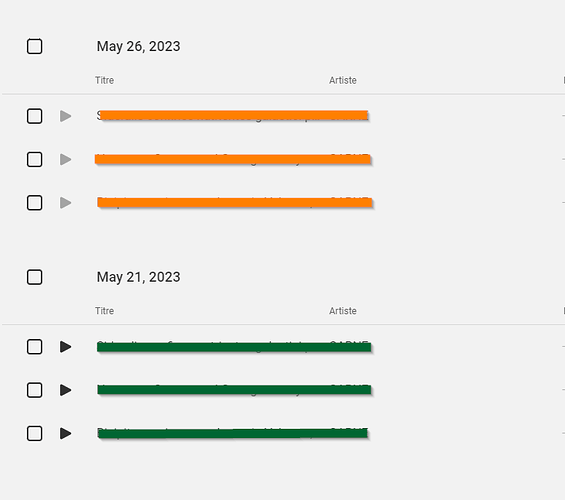 In your account, navigate to Library > Tracks to find this view.


Your tracks can now be selected and added to 1 or multiple releases
Thanks, SimonG, sorry for the late response.
I have deleted all the tracks in my library. Thank you.
Best regards!
Pablo