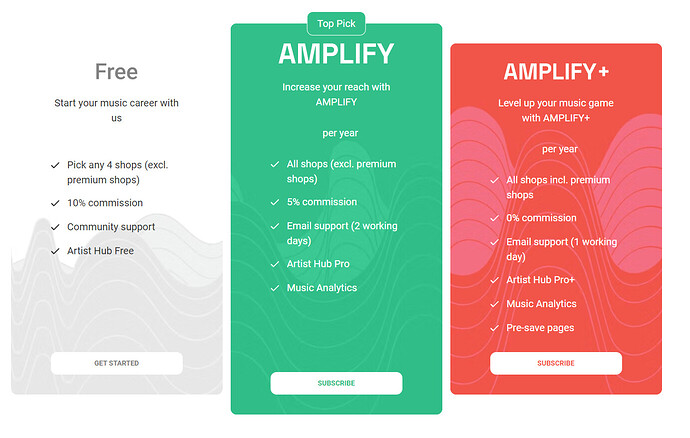 Hey all,
We just released a Core Update to iMusician Platform

Update: If you want some more context on why we changed - please read this post
We've spent a long long time updating iMusician to be even better than ever and still give you access to the features you want so here's a video update to give you an overview
Still not sure? Watch this thread as we will be running Webinars in French and English very soon (check the links for dates)
Core benefits:
You only pay for what you really need
If you simply want to keep your music online forever? With iMusician you just pay ONCE and your songs are good to go forever! You get all the basics that come with our Free plan, such as our free smartlink (AH Free) or access to our iMusician community
If you want more advanced features, distro perks and promo tools, you just get one of our subscription plans, AMPLIFY or AMPLIFY+. You can go monthly for full flexibility or save some money by going yearly.
There's no need to pay legacy fees or be worried about your music being taken down if you forget to change your credit card. Once it is up, it is up.
No matter which plan you're on — even if you change your mind and downgrade to our Free plan — your releases stay online as they were!
For All of Us Who Have Commitment Issues
This brings us to a very important point: financial flexibility. With iMusican you don't need to lock yourself into any long term contracts.
Unlike other music distributors where you have to keep paying to keep your releases online, iMusician lets you switch your subscription to our Free Plan anytime, for as long as you need to (and, your tracks stay online, yes, we made this point before but we'll make it again!)
Your songs will still be online generating streaming revenue from all the shops they were delivered to, no matter what plan you're on and your Artist Hubs will remain online!
When you're ready to roll again, you just pick up where you left off, and everything is back to normal
Say Cheese! Yeah, We're Swiss.
Another important point for our artists has been trust. We are trusted by half a million independent artists who release their music with us. As a Swiss company we are backed by strong global copyright laws and a stable financial system. You can trust that your music and money are well protected with us.
Unlike most of our US-based competitors, we don't charge any hidden fees like withholding tax
What's withholding tax, you're wondering? Most US distribution companies charge withholding tax, which means that they keep 30% of your music revenue (automatically) if you're not a US citizen (or fill in loads of forms)
As a Swiss company we don't do that: If you go for 0% commission, you'll keep 100% of your royalties! There is absolutely no witholding tax from Switzerland, whichever country you are in.
Our Mission: The One and Only Music Career Toolkit
We're on a mission to become your music career one-stop-shop, and we're working continuously to create new solutions for any possible music industry problem that you need solved.
Music promo tools like Artist Hub with pre-save pages help you build your brand and increase your reach
Music Analytics lets you discover your potential with charts and graphs that tell you more about your listeners and how they interact with your music
You can talk to our experienced Artist & Label relations agents in 6 different languages on whichever channel you prefer: direct forum support or email
You can pitch your songs to our own playlists or let us pitch your tracks to the official playlist curator on Spotify, Amazon etc.
We're Here to Develop More Tools for You! Tell Us What You Need!
Of course we are continuously working on launching new tools and features
As some of you may know, we're going to introduce revenue splits very soon; a tool that automatically calculates the revenue every team member is owed, so all you have to do is hit the payout button
We're also working on another solution to promote your artist brand
A lot is going on BUUUUUT, this is where we count on you: what else do you want us to come up with? Which career obstacles do you need help with? What tool have you always been dreaming of? Tell us in the "Suggestions" section of the Community